Adrenal Surgery
There are naturally two adrenal glands situated at the top of each kidney. Adrenal glands secrete hormones that are essential to life and these are cortisol, adrenalin, noradrenaline and aldosterone. Cortisol is very essential for the metabolism and balance of blood glucose. It is also necessary for regulation of the blood pressure and plays a major role in a variety of metabolic activities that involve the cardiovascular and the central nervous systems.
Adrenaline and noradrenaline play an important role in the regulation of the cardiovascular system that involves mainly blood pressure and the heart rate. It also produces aldosterone , a hormone that controls the regulation of sodium and potassium. Aldosterone interacts with another hormone which is called angiotensin and plays an important role in regulation of the blood pressure, maintenance of sodium and potassium levels in the blood.
Adrenal tumours
Functional tumors can produce one of the following hormones

Aldosterone producing tumors (Conn's Syndrome)
Cortisol secreting (cushing syndrome)
Catecholamines (adrenaline and noradrenaline)Pheochromocytoma
Testosterone (very rare)

Non-functional tumors
Malignant tumors

Adrenocortical carcinoma
Adrenal metastases from other cancer such as lung, and breast
Diseases that affect the adrenal gland that need surgery are usually tumours that can arise from the normal adrenal gland tissue. A variety of tumours can arise in the adrenal gland . The most common one is the tumour that secretes aldosterone. These are a benign tumour, they could be multiple and they could be bilateral but most often they are a single tumour that leads to elevation of the blood pressure which tends to be resistant to treatment in addition to a low level of potassium in the blood. Certain blood tests are usually enough to pick up the diagnosis and that will be followed by localisation studies which involve a scan. Usually in the form of a CT scan or a MRI to find the adenoma. These tumours tend to be small and they can be less than one centimetre which make the localisation of the tumour particularly hard as to whether it is the left or the right side that is effected. In that situation usually your Doctor will recommend localisation studies which involve an invasive angiographic sampling of blood from the main vessels to locate the lesion.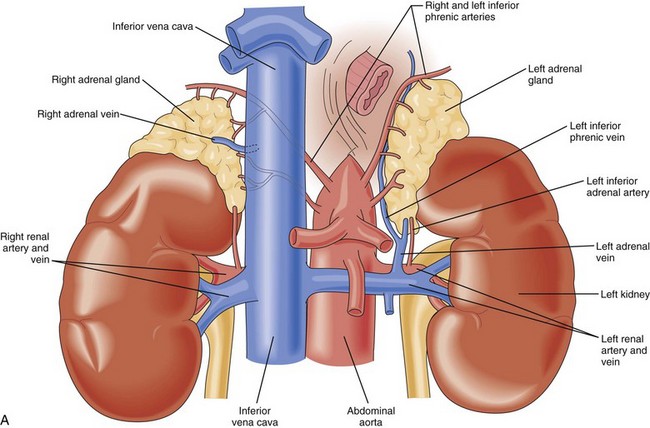 Frequently asked questions:
Is the whole adrenal gland removed?

Yes,  the entire adrenal gland is removed during surgery. This leaves the patient with one healthy gland on the other side, which is sufficient to provide all the hormones needed.
In patients with bilateral tumors, a partial adrenalectomy ( a small part of normal adrenal tissue is left behind) is performed.

What type of anesthesia will I have?
How long does surgery take?

Laparoscopic surgery on average takes about two hours depending on the type of surgery, body habitus, previous surgery in the abdomen.

How long is the hospital stay?

Most patients will spend two nights in the hospital.
Patients that undergo open adrenal surgery will generally spend 4-6 days in the hospital.
For patients with functional tumours (in particular ones that produce cortisol or catecholamines), the length of their stay may depend on getting the patient on the right dose of medication before discharge.

How long is the recovery?

Recovery usually takes a few days, pain will be minimal but fatigue from the operation and the anaesthetic need a few days.
After laparoscopic adrenalectomy most patients need a week off from work.
Open surgery requires a longer recovery

What are the risks of surgery?

Complications are rare but exist, and are similar to any abdominal surgery. These include bleeding, infection, injury to other structures, possible need for conversion to an open operation.

Are there any stitches to be removed ?

There will not be any stitches to remove.
Patients that need open surgery will most likely have staples that will be removed at 12 days after the operation.

Further medication? There is no need to take supplements after adrenal surgery the second adrenal will be adequate for hormone production.